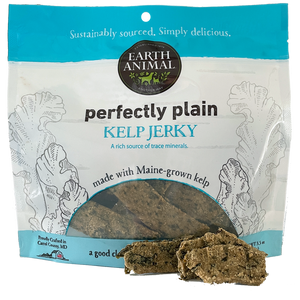 Kelp Jerky
Sustainably sourced, simply delicious.
Perfectly Plain Kelp Jerky is nutritious, delicious, and dogs absolutely love it! It's naturally full of taste with an "al dente" texture that dogs love. No coatings, no palatants, no artificial anything.
Your pup will drool over this intense, satisfying flavor of the sea 
Backed by the Power of Plants: Naturally packed with nutrients, kelp is a nutritional powerhouse with 10x the calcium of milk and chock-full of essential vitamins and minerals.
A sustainability superstar in the making! Kelp is regenerative and clean, grown without soil, feeds, fresh water, or fertilizers.

Did you know? Growing kelp deacidifies the ocean and improves the marine habitat where it grows, all while helping reduce the effects of global climate change.

Grown in the cold, clean waters of coastal Maine - sourced from our partners at Atlantic Sea Farms who work with lobstermen, giving them an additional way to work on the water during lobster's off-season.
Proudly hand-crafted in small batches in Maryland, USA
Great for dogs with sensitive stomachs or those that enjoy softer treats and every pup in between!
Don't take our word for it – Kelp Jerky won the 2021 Pet Business Magazine Industry Innovation Award for dog treats!
Ingredients:
Dried Kelp, Rice Bran, Coconut Glycerin, Coconut Oil, Sodium Alginate, Calcium Lactate, Natural Vegetable Flavor, Mixed Tocopherols (a preservative)
Integrity requires sourcing the best from the best. Part of our mission is to always have complete transparency and the highest quality and we will search the globe to find just the right partners. The Supply Chain Code of Conduct our partners abide by includes 100% supply integrity, a deep focus on sustainability, the environmental and social impact of ingredients, the compassionate treatment of animals, and sourcing organically as much as possible. For a list of the ingredients in Kelp Jerky and their county of origin, please visit earthanimal.com/ingredients.
Guaranteed Analysis (per pound): 
Crude Protein. . . . . . . . . . . . 12%(min) 
Crude Fat . . . . . . . . . . . . . . . . 5%(min) 
Crude Fiber . . . . . . . . . . . . . . .6%(max) 
Moisture . . . . . . . . . . . . . . . . 28%(max) 
Chloride …………………………..0.81% (min)
Iron…….……………….……………80 mg/kg (min)
Manganese………………………90 mg/kg (min)
Iodine………………………………140mg/kg (min)
Calorie Summary:  22kcal/Serving (1-2 Treats) 

Kelp: The Superfood of the Sea
Chloride - An electrolyte responsible for osmotic pressure and acid-base balance
Iron - Maintains and supplies oxygen in the circulatory system
Manganese - Supports metabolism, healthy bones and cartilage, and energy production
Iodine - Great for thyroid maintenance/function
Potassium – Helps with nerve and muscle function
Calcium – Keeps bones and teeth strong
Magnesium – Helps with energy, muscle function, blood-glucose, and blood pressure
Bag Size: 3.5 oz. 
Recommended Feeding Guidelines: (By weight of your dog) 

5 - 10lbs. . . . . 1/2 - 1
11 - 20lbs. . . . .1 - 1 1/2
21 - 80lbs. . . . 1 1/2 - 2
81+ lbs. . . . . . .2 – 2 1/2
Safety First. Always. 

Size matters and supervision counts when choosing any treat for your dog or cat. Anything that goes into their mouth can potentially become a choking hazard. Chews the right size™ and never leave your dog or cat unattended during the chewing process. 
---
We Also Recommend
---