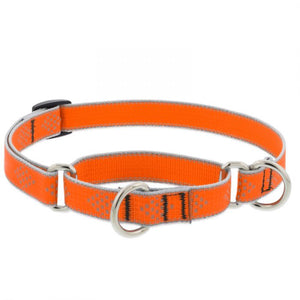 Orange Diamond Martingale
Reflective martingale collar in our NEW High Lights reflective collection. A great tool for leash walking and training, our martingale collar is a limited slip collar designed to offer more control. With a proper fit, the Lupine martingale collar design prevents your dog from backing out. Safety, control and comfort in one easy tool! 
Slip on over the head and adjust to a comfortable fit. Additional D-ring provides a place for ID tags or, clip to both D-rings to use without the martingale feature.
Limited Slip training collar
Strong, soft woven nylon webbing with reflective threads woven into the designs - so it will not fade, rub or peel off!
Multi-function 
Guaranteed, Even if Chewed®
Lupine martingale collars are available in 3/4" and 1" widths for medium, large and x-large dogs. Pair with our reflective dog leash to complete your pup's look!
Please Note: Martingale collars are designed for training and leash walking. They should not be left on an unattended or unleashed dog.
Reflective designs reflect light and do not glow or light up.
Product Highlights
Durable, Lasting Webbing - Originally designed for climbing and hiking gear. Premium woven nylon that's strong, durable & soft. Now with reflective designs woven directly in!
Stitching – Every Fiber Matters - Lupine Pet utilizes the bar tack commonly used in mountain climbing products where superior strength is crucial.
Heavy-Duty Steel D-Rings - Our welded steel D-rings are rust resistant and designed to hold up to years of heavy use.
Adjustable, Easy-to-Use Tri-Glides - The non-slip teeth molded into the plastic tri-glide keep the collar adjusted to the correct size. 
---
We Also Recommend
---